Insomniac Folklore is a ever-rotating cast of friends and family dedicated to bringing you the very finest Barrel-Aged Vaudeville-Folk Cabaret Punk straight from the heart and the highways of the American West.

Over the years, many of you have asked for ways to support us and help us continue to travel and make music. We appreciate your desire to partner with us very much and have given the matter careful thought, because we absolutely do need help to grow, and because you genuinely matter to us.

Thus, we would like to introduce our Society of Illustrious Benefactors.

As an Illustrious Benefactor, you agree to make a monthly donation to our cause, and in exchange you'll get exclusive benefits as our way of saying Thank You.

Our desire is to cultivate a closer relationship with our supporters, creating a deeper sense of community and connection, while enabling us to create, record, and perform at higher level of quality with - hopefully - reduced dependence on crowdfunding. Finally, we hope, with your support, to be able to travel more freely while still having a home to come back to.

We are currently in the process of recording our next album, "Everything Will Burn", slated for release this winter. Musically, it is a bit of a departure from our previous work, drawing more heavily from darker influences like Cohen and Cash. The recording and production quality on this album are better than anything we've done so far - we really think you're going to love it. We're hard at work crafting a dynamic new live show to accompany this album, along with top-notch artwork and all kinds of new posters, t-shirts, coffee mugs, and more. Our goal for this year is to raise enough support to cover the production costs of "Everything Will Burn", so that a later crowdfunding campaign can be limited to the cost of actually pressing records.

If you have been touched by our music and want to help us grow, please consider subscribing at any level you choose. In return, we will bestow upon you exclusive bragging rights and shower you with swag. You will also receive invitations to Society Events and Secret Tea Parties to be held throughout the country whensoever it is convenient, and if you give us your address, we will even send you our Christmas Card.

Our sincerest thanks for your support and love,
Insomniac Folklore
Here's what you get:
All the new music we make

streaming instantly on your mobile device via the free Bandcamp app, and also available as a high-quality download.*

Access to subscriber-exclusive messages:

These back-catalog and subscriber-only releases:
A 15% discount on all our merchandise.
The satisfaction of knowing you're supporting us in a sustainable way.
Join:
For $5/month, you get everything above.

You're a subscriber

Thank you!

For $10/month, you get everything above, plus:

Postcard Club! I Each month we will send you a handwritten postcard in the mail! (Because mail is fun!)

You're a subscriber

Thank you!

For $35/month, you get everything above, plus:

Parcel Club! Because the only thing better than mail is presents, every two months we will send you an extra-special package filled with things we think you'll like! This could include exclusive CDs or artwork, books, recipes, photos, or whatever we're obsessed with at the time and feel compelled to share. Go with us on this one...the possibilities are endless and we're pretty excited. We will guest-list you at our shows.

You're a subscriber

Thank you!
* Downloads are DRM-free and available in MP3, FLAC and
more
.
Insomniac Folklore
Insomniac Folklore is a band of lovable hooligans who play songs of joy and doom.
Latest Release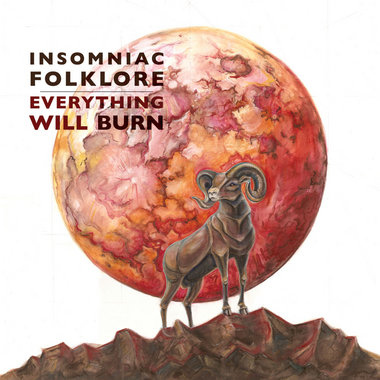 Everything Will Burn